Cascade of Solutions
Regeneration puts life at the center of every action and decision. It applies to all of life—grasslands, farms, insects, forests, fish, wetlands, coastlands, and oceans—and it applies equally to family, communities, cities, schools, religion, commerce, and governments. And most spectacularly to climate.
Regeneration is a response to the urgency of the climate crisis, a determined what-to-do manual for all levels of society, from individuals to national governments and everything and everyone in between. It describes a system of interlocking initiatives that can stem the climate crisis in one generation.
If we want to get the attention of humanity, humanity needs to feel it is getting attention. Regeneration creates livelihoods that bring life to people and people to life. It is work that links us to each other's wellbeing, that provides those in poverty with purpose and a future of dignity and respect.
The heating planet is our commons. It holds us all. To address and reverse warming requires connection and reciprocity. It calls for moving out of our comfort zones to find a depth of courage we may have never known. It calls for action that is bold and fearless.
welcome to

Bioregions are defined by their unique landscapes and ecosystems, as opposed to political boundaries. There are 185 distinct named bioregions, according to researchers at One Earth. Understanding of bioregions, including watersheds, foodsheds, and habitats, creates political and cultural systems that are in accord with ecological stewardship.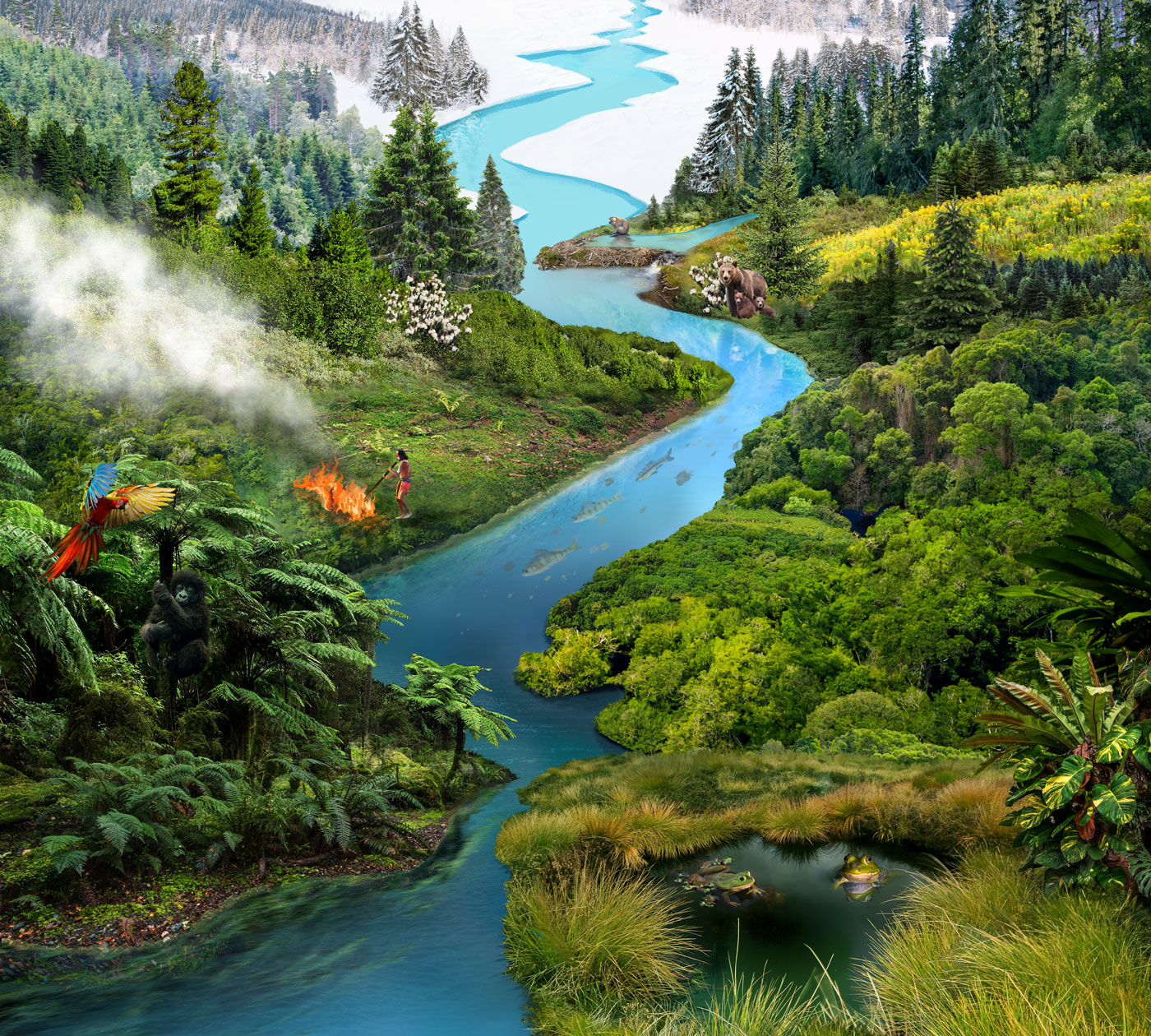 The Boreal wraps around seven countries and comprises 4.2 billion acres, with the highest carbon density of any region on earth. However, Boreal ecosystems are being eaten away and torn apart by mining, oil extraction, and logging. Urgently protecting 30 to 50 percent of intact forest is critical for climate.
See Nexus : Boreal Forests
For decades, beavers had been considered a destructive, tree-killing nuisance that required eradication. Ecologists and scientists have come to the opposite conclusion: that beavers are a keystone species, restorers of habitat for fish, turtles, frogs, and birds. Their activity increases vegetation and groundwater levels, while decreasing stormwater runoff and erosion.
See Nexus : Beavers
Afforestation is the deliberate introduction of trees to land not previously forested. As trees grow, the quantity of carbon stored in their leaves, branches, trunk, bark, and roots can be significant. When careful site and species selection is considered, afforestation is an effective strategy for maximizing carbon sequestration.
See Nexus : Afforestation
Every ecosystem forms a cascade of life; trophic describes the act of feeding, of obtaining nutrition. How an ecosystem is assembled differs with place, with certain keystone species—whether predators, ecosystem engineers, or mutualists—gluing the entire system together. Protecting this natural balance lies at the heart of the regeneration.
Indigenous people have actively used fire for thousands of years to cultivate abundant, productive forests and grasslands. Fire ecology employs carefully timed, low-intensity fires to remove underbrush and regenerate important grasses and perennials. Today, as Indigenous wisdom is being recognized by state and federal authorities, tribes are bringing good fire back.
See Nexus : Fire Ecology
One of the simplest climate solutions is to let tropical forests grow. Deforestation in the tropics is largely driven by the production of four commodities—cattle, soy, palm oil, and wood. Reducing industrial demand for these products, while ensuring Indigenous rights to their land, will protect these irreplaceable webs of life.
See Nexus : Tropical Forests
Known as swamp forests, fens, heaths, bogs, or mires, peatlands are wetland ecosystems where organic matter decomposes slowly and builds up large stores of thick, black carbon. Slash-and-burn deforestation and conversion of peatlands for palm oil plantations releases carbon from these spongy sinks, threatening communities, species, and global climate.
See Nexus : Peatlands
Wetland variations are endless: seasonal or permanent, freshwater or saline. Repositories of carbon, diversity, and life, they help prevent flooding and erosion, and store water in times of drought. Drained for land and fuel, wetlands are under threat the world over, with more than 65 percent lost in the past century.
See Nexus : Wetlands
Forests are the greatest remover of carbon dioxide on the planet, and primary, mature forests are responsible for the majority of that sequestration. Proforestation—protecting intact forests as well as letting degraded forests recover and mature—can have a greater impact on global emissions than any other land-based solution.
See Nexus : Proforestation