Image

Call to action:
Align investments to activities that regenerate our relationship with energy, infrastructure, forests, farms, grasslands, biodiversity, rivers, oceans, human rights, and social justice.
In the five years following the Paris Agreement, the world's sixty biggest banks have invested $3.8 trillion in fossil fuels. G20 countries have provided more than $3.3 trillion in subsidies for fossil fuels since the Paris climate agreement. We are entrenched in the existing financial system as customers, pensioners, business owners, and governments. Our banking system is actively aiding in the destruction of our shared home. By investing in alignment with regenerative principles, we have an opportunity to put life back at the center of our imagination of "wealth."
Action Items
Groups
Developed Nation Policymakers and Large NGOs
Offer "debt swaps" to developing countries. Debt swaps are policy options that allow countries to settle debt while also protecting the environment. They work by forgiving foreign debt on the condition that the government of that country devotes resources to fighting climate change and other environmental issues. Many countries could benefit from debt swaps, from Vietnam to Kenya to Cape Verde, and because it is a results-based system, the nation in debt needs to follow through on promised action. In February 2016, the Seychelles committed to increasing its ocean protection from just 0.04 percent to 30 percent by 2020—a goal the country met, ensuring that 410,000 square kilometers were protected. The debt conversion deal, designed by the Seychelles government and the Nature Conservancy, ultimately forgave a $21.6 million debt in exchange for investing in conservation, including the 30 percent marine protection goal.
Shareholders
Shareholder activism can put pressure on corporations to change their climate priorities. All publicly listed companies must hold one annual general meeting (AGM) of shareholders each year, where shareholders can ask critical questions or file (green) resolutions. Through proxy contests, activist shareholders can also try to win over other shareholders or win board seats, as occurred in May 2021 at ExxonMobil and Chevron.
Companies
Disclose and stop finance for fossil fuel, deforestation, overfishing, and ecosystem-degrading projects. If your organization has invested in polluting and extractive industries, halt further investment in such projects and publicly commit to a transition to regenerative work. Consider allocating the resources necessary to offset historical damages.
Publicly announce a commitment to the Principles for Paris-Aligned Financial Institutions. Disclose actionable plans that commit to halving emissions by 2030 and reaching effective zero by 2050, protecting and restoring our natural carbon sinks, and ensuring human rights of communities and workers.
Internalize the true cost of production. Accounting for the trust cost of a product or service involves including the social and environmental costs that are often externalized by companies. The food industry is one such area in which true cost accounting (TCA) is being experimented with.
Governance
Finance regenerative projects using green bonds. Leverage bonds specifically earmarked for regenerative projects using guidelines such as the Green Bond Principles or the EU Green Bond Standard. The Energy Security and Efficiency Enhancement Project in Jamaica and Indonesia's Green Sukuk are examples of using green bonds for renewable energy infrastructure and net-zero building projects.
Embed climate considerations in the operations of national banks. Central banks supervise the monetary and financial system and are key players in creating a regenerative financial system. They should adopt monetary tools to immediately stop extractive and polluting activities. Corporate asset purchases should be reserved only for businesses that are aligned with a 1.5°C degree trajectory, and all fossil fuel-related activities should be excluded from the central bank's list of collaterals.
Set up green banks. Green banks are widely considered the missing public financial institution that can mobilize large amounts of capital for a climate transition. The NRDC (Natural Resources Defense Council) report on the State of Green Banks 2020 provides a helpful overview for policymakers seeking to set up green banks.
Bad Actors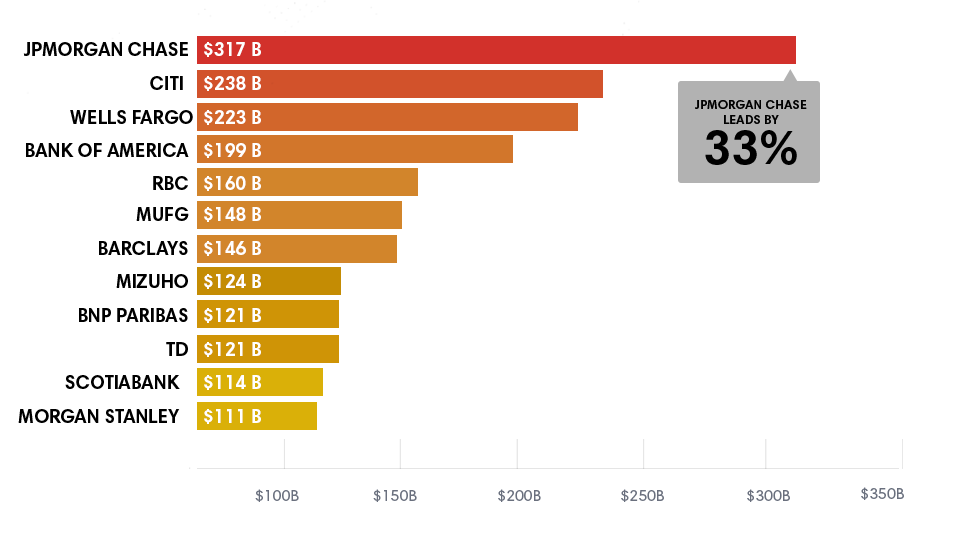 Boycott/divest from extractive financial institutions. Based on the Banking on Climate Chaos 2021 report, the top five fossil fuel financiers are below. View the full analysis here.