The Waggle
The Waggle - Issue 38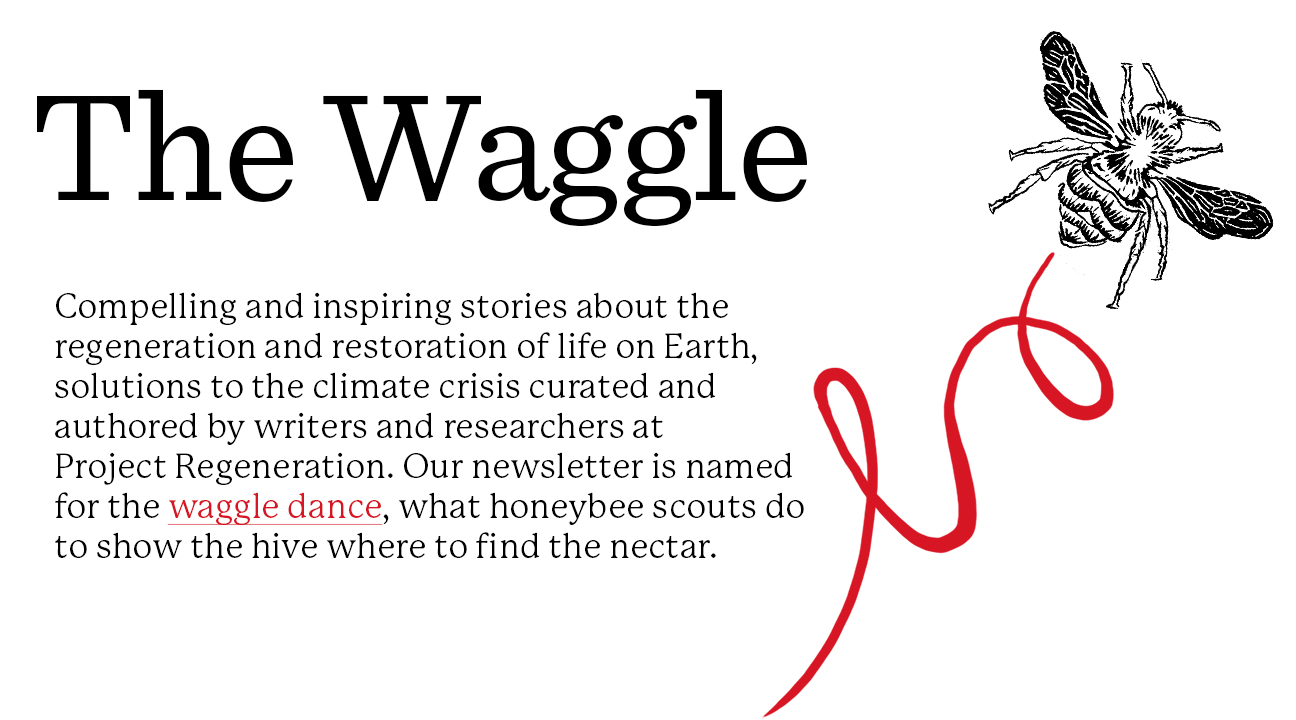 Claire Krummenacher
Emerging Alternatives to Palm Oil: Palm oil is a significant driver of deforestation in the tropics–an estimated 47% of Indonesia's forest was lost to palm oil between 1972 and 2015–and production is expected to triple by 2050. However, researchers are tapping into a World War II-era solution to find an alternative: oils made from yeast and microbes that retain palm oil's chemical properties. Thus far, most synthetic oils have been produced with yeasts that feed on cane sugar, but the process could be rendered even more sustainable by utilizing a yeast that ferments potato peels as well as a fungus that feeds on corn harvest leftovers. With companies racing to scale up production and the first microbial oil product expected to be launched by the startup C16 as early as the first months of 2023, researchers are optimistic that lab-grown palm oil alternatives could become a key tool in preventing tropical deforestation within the next 5 years.
 Kate Furby
Heating Up: 2022 was the hottest year on record for the ocean. The oceans absorb more than 90% of the excess heat caused by greenhouse gases. Last week a scientific report detailing the record-high temperatures was published. NOAA and NASA reported that ocean heat reached a new high, Arctic Sea ice was recorded at a very low level, and much of Europe experienced record highs. Ocean heat can affect so many other parts of our planet and atmosphere, changing how ocean water mixes and affecting atmospheric conditions as well. Perhaps worst of all, the heated ocean makes storms like hurricanes and atmospheric rivers, currently pummeling the US west coast, much more intense.
 Kavya Gopal
Warming Salt Marshes: Tidal salt marshes are carbon storage powerhouses and home to an array of unique vegetation and endangered wildlife. A new study from the Marine Biological Laboratory complicates our understanding of how effective these extraordinary coastal wetlands are in their ability to act as carbon sinks in the face of rising temperatures and sea level rises. Researchers found with each seasonal increase in the temperature recorded over 16 months, more carbon dioxide was emitted from low marshes than from marshes at areas of higher elevation. Their findings suggest that as sea levels rise, large carbon stocks in low marsh habitats are vulnerable to losses. More research is needed to understand how widely these findings apply to other marshes, and what the fate of the exported carbon both in the ocean and the atmosphere is.
 Nick Obradovich
Daily Regenerative News: Paul and I both subscribe to the Bloomberg Green Daily newsletter. We find it to be one of the best daily newsletters on regeneration-related topics that we've found. If you're yearning for more content and would like a diverse array of regeneration-related news—from bees to batteries to biodiversity—on a daily basis, we heartily recommend subscribing here.
 Robert Denney
Companies and Emissions Reductions: In 2021, the U.S. government pledged to reduce its emissions by 50% below 2005 levels by 2030. With the start of 2023, the country has only seven years left to deliver on that promise, and in an article in Forbes the CEO and president of Ceres explains seven actions investors and companies can take this year to support the U.S.'s pledge. The seven actions include (1) delivering climate transition plans, (2) transforming high-emitting sectors, (3) implementing the Inflation Reduction Act, (4) supporting a just and inclusive transition, (5) valuing water, (6) tackling nature and biodiversity loss, and (7) treating climate risk as financial risk. The article closes with a simple but important point: it makes good business sense to guide investments and companies to foster a resilient, competitive, and just economy in the face of climate change.
 Tim Treuer
Seaweed bioplastics: While 'reduce' and 'reuse' should continue their primacy in addressing single-use plastics, I've still been excited to see seaweed-based bioplastics making a splash. For the time being, our society is going to keep producing and throwing out many plastic products, so why not make them out of biodegradable seaweed like kelp, which can be farmed in ways that benefit ocean life and our climate? This piece by Mongabay introduces two newcomers in the space, a German start-up called one • fıve and a Filipino entrepreneur each developing plastic alternatives, the latter made from seaweed and mango peels. With another seaweed bioplastic start-up recently winning an Earthshot Prize, it's been a busy year on this front and soon the Ocean Farming Nexus will need an update!
 Amy Boyer
Centering Traditional Ecological Knowledge: A paradigm shift is occurring in how California thinks about climate change. For the first time, the sprawling report Indicators of Climate Change in California includes Indigenous perspectives from over 40 Tribes. Indigenous feedback was necessary to understand how to integrate thousands of years of Traditional Ecological Knowledge with Western science. Unfortunately, some governmental agencies continue to reject input from people who are seeing changes on the ground.  In contrast, in Finland, Indigenous and local knowledge were critical to identifying the source of fish kills and coming up with a solution. Meanwhile, Tribes throughout California are blending their own observations, history from their elders, and science as they adapt to change and reflect on what they can pass down to their children and children's children.
 Benjamin Felser
Conservation and Conflict in Nepal: The increasing success of conservation campaigns in southern Nepal has also meant a rise in human-wildlife conflict. A recent study found that locals around Chitwan National Park are overlooked by a government that prioritizes conservation goals over local needs. Living in Nepal, I've seen both a deep reverence for wildlife and immense pain for harm done to crops, livestock, and family members with little recognition from the government. This trend began when indigenous communities were forcibly removed to form the park in 1973. To this day, allotted lands for traditional use are too small, forcing people to go into the park where most of the fatalities occur. Tharu people have lived alongside rhinos and tigers for thousands of years, and their traditional land management practices pose a meaningful resolution to this conflict if authorities are able to listen.
 

Courtney 

White
Wild Animals Can Help Climate: New research suggests that the link between healthy populations of wild animals in boosting the ability of ecosystems to store carbon is greater than originally believed. In the past, scientists studying plant-animal interactions in the wild tended to focus on the role of vegetation in sequestering atmospheric carbon in soils, undervaluing the role of animals in carbon storage. That's changing. In particular, the role of predators, such as wolves and lions, and other keystone species play in controlling the size of wildlife populations and influencing ecosystem health have an important effect on carbon cycling. It's a similar situation in the oceans, as this Mongabay article explains. The new data will support efforts already underway to protect biodiversity globally and rewild ecosystems.
Want the Waggle coming to your inbox instead? Click Here to Subscribe!